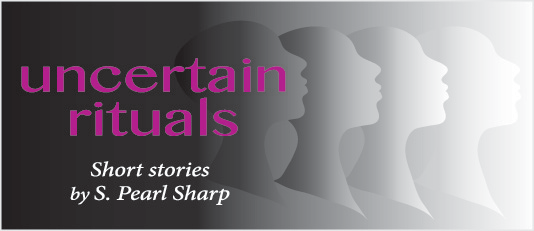 An audio collection of five short stories.
Written and read by S. Pearl Sharp.
Directed by Iona Morris
CD (2 discs): $20.00
---
Gift A Library
Donate this product to any library in the U.S. of your choice or allow us to select one. (We'll contact you to confirm.) A letter with your name will be included in the library's package.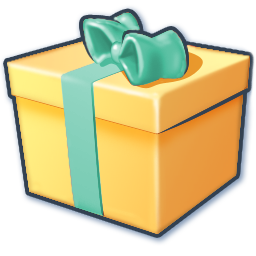 "Precisely crafted works expressing the daunting complexity of life and death and all the complicated notes in between, the mama griot gathering us around the digital fire, feeding us visions. A masterwork by a master artist at the top of her game."
–Arthur Flowers, author Another Good Loving Blues and Mojo Rising
---
The Lily Knot
Miss Lily finally decides to marry the man who has been her "steady" for forty years. But has he changed his mind? Music by Florence Price, performed by Althea Waites. With a poem by Ruth Forman. (28 min.) Click below for preview.
1. 01-UncertRit-THE-LILY-KNOT-sample
Silk
A bride-to-be flirts with Death in a dream, then faces wide-awake consequences. A mystery. Music by Derf Reklaw, with a poem by Lucille Clifton. (26 min.) Click below for preview.
2. 02-UncertRit-SILK-sample
Final Draft
Edgar makes his living writing jingles, but one writing assignment challenges him beyond his imagination. Music by William Roper, with a poem by Bernie Casey. (23 min.) Click below for preview.
3. 03-UncertRit-FINAL-DRAFT-sample
Trinities
A former activist makes a surprise visit to the site where she had volunteered in the Civil Rights Movement decades earlier. Music by Damu Vusha, with a poem by Tamara Smiley Hamilton. (25 min.) Click below for preview.
4. 04-UncertRit-TRINITIES-sample
Dearly Beloved
A young wife refuses to attend her husband's funeral, much to the chagrin of her family. A love story. Music by Bruno Martino, performed by S. Pearl and Michael Ligon, with a poem by Faythe Bell Sharp. (27 min.) Click below for preview.
5. 05-UncerRit-DEARLY-BELOVED-sample
---
The Pearl "Cliff Notes"
Uncertain Rituals
This collection of stories is inspired by a line from Zora Neale Hurston. For dramatic impact I cheated a little, editing the lines to "Death….bowed …and left us to act out our ceremonies over unimportant things." Read the actual passage in her insightful autobiography Dust Tracks On A Road (1942).
www.zoranealehurston.com
The Lily Knot
The poem is an excerpt from "Venus's Quilt" by Ruth Forman, in her poetry collection, Renaissance (Beacon Press). It's read by "Soulbrother to the Night" Teddy Angelo Robinson, host of KPFK-FM Pacifica radio's weekly program "Stairway To Heaven."
www.ruthforman.com
www.teddyonair.weebly.com
www.kpfk.org
I fell in love with the first movement of Florence Price's Sonata in E Minor, written in 1932, when I heard it performed by pianist Althea Waites. Price, 1887-1953, is described by Waites as the first African-American woman composer to achieve national recognition. Listen on Waites' CD Black Diamonds (Cambria Music), and more on her label Kuumba Music.
www.altheawaites.com.
Silk
Silk is based on an actual dream that became too real. Years later the events merged with my questioning of our standard representations of Death. Would we respond to death's possibility with more ease if it appeared as an attractive, sensuous being?
Carlos Castaneda's thought is found in the Peruvian-American author's third book in the Don Juan series, Journey to Ixtlan: The Lessons of Don Juan.
The poem is "some dreams" by Lucille Clifton — my favorite poet — from the collection An Ordinary Woman. It's read by Iona Morris. Master musician and composer Derf Reklaw created the music using bottles, voice, wood shakers and a balde (pail). Derf's CD is From The Nile (Ubiquity Jazz), and he's on my poetry w/jazz CD Higher Ground.
www.IonaMorris.com
www.DerfReklaw.com
Final Draft
The research on suicide is vast, from such gems as the article "Self Destruction in Bulgarian Folk Songs," to Evans & Farberow's The Encyclopedia of Suicide.
Actor and artist Bernie Casey shares his poem, "There Are Days" from one of his three collections of poetry with art. William Roper provides the tuba music, excerpted from his sixth CD, Boll Weevil Ruminations. (Tomato Sage Consortium)
www.tv.com/people/bernie-casey
www.roperarts.com
Trinities
During the turbulent 1960's as Black Americans struggled to gain their full civil rights retaliation included the burning of Black churches. Trinities is set in 1997, during a second large wave of church burnings mostly in the South. It led to the federal Church Arson Act and the formation of the Burned Churches Project which helped churches to rebuild. In the wake of the 2013 acquittal of George Zimmerman for the murder of Trayvon Martin, organizations such as WND internet news re-opened their 50-year claim that the hundreds of church burnings are a hoax.
www.nccusa.org/ChurchBurning
www.wnd.com/2013/07/churches-denouncing-zimmerman
In 1963, hours after four girls were bombed to death in a Birmingham, AL church, a Black boy was murdered by a police officer, and another, Virgil Ware, was shot off his bike by two white Boy Scouts who had just returned from a white supremacists gathering.
Following the "sit-in" and "Freedom Riders" actions, in 1964 the Mississippi Freedom Summer Project volunteers set up a massive voter registration project in the state, and opened Freedom Schools attended by 3500 students that summer.
Tamara Smiley Hamilton shares her poem "Looking Back," from her poetry collection Soul Quake (NETvision). That scintillating harmonica comes from musician Damu Vusha.
www.soulquake.com.
Dearly Beloved
The story was first published in an anthology that has become a classic, African Americans Celebrate Love (Anchor), and it has been performed as a one-act play. Michael Ligon is at the piano, playing Bruno Martino's "Estate (Summer)" I'm singing, but the vocal you really want to hear is Shirley Horn's, on her CD I Thought About You- Live At Vine Street. (Universal Music wanted humongous money to use her recording here.)
The poem is "Somnolence" by Faythe Bell Sharp. In a sort of spiritual reunion matching this story, the poem is my mom's (deceased), from an unpublished collection, written in 1946. It's read by my sister, Emily M. Newsome, also a poet.
www.PoeticOfferings.com
---
Credits
Written, read and edited by S. Pearl, her stellar production team includes:
Iona Morris, director
Dave Fennoy, recording engineer
Mark Maxwell, music recording engineer
Roy Hurst, post-production audio engineer
Mark Maxwell, announcer
Beverly Hawkins Hall, logo artist
and special appreciation to KPFK Pacifica Radio in Los Angeles
Produced in collaboration with Rise.
Acknowledgements
I'm deeply grateful for the family of writers who helped me grow these pieces, contributing insight, sensitivity and truth, in Nancy Padron's Back Porch Fiction Workshop, Ruth Forman's Flow Workshop, workshops led by Leslie Schwartz and by Anthony Lyons, and the after dinner readings at Hedgebrook. I'm awed by the divine writing space given by Hedgebrook women writer's retreat. And I thank the late Vince Cannon for believing so strongly in the work.
Having this caliber of musicians and poets mingling their art with mine is a serious blessing! Deep honoring to Mark Maxwell for offering his perfect guidance with grace, appreciation for technical support to Mike Varela and the SAG DLF Voiceover Lab, and KPFK-FM Pacifica Radio.
Bunches of praise songs to my director and coach, Iona Morris, whose fierce spirit and awesome ear took me places I had no intention of going to, but needed to get there.
S. Pearl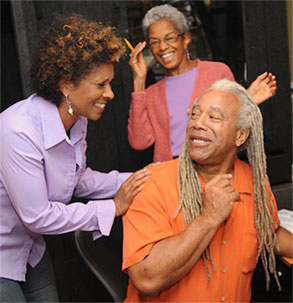 Director Iona Morris (l), S. Pearl and recording engineer Dave Fennoy.
photo: Iann Foxx
Produced by Poets Pay Rent, Too, in collaboration with Mark Maxwell's Rise.
Recorded and manufactured in Los Angeles, CA
All written material and photos c.2013 S. Pearl Sharp/Poets Pay Rent Too
Please request permission to duplicate.