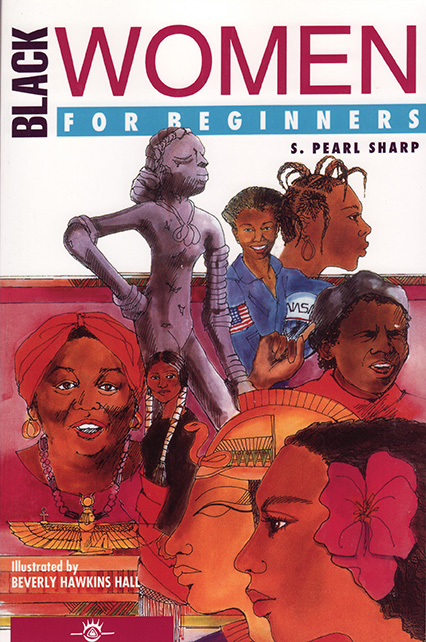 Book: $14.95
"There are 519 million, 870 thousand Black Women on the planet Earth, give or take a dozen. There's a Black Woman on each of the seven continents, in almost every country and in the space program. So no matter where you go she's already been there. She travels with forces greater than herself. Her presence is everywhere."
As warriors, healers, teachers, mothers, queens and liberators, Black Women have impacted issues from food to fashion, from politics to poetry while confronting stereotypes and challenges. In keeping with the style of Glenn Thompson's popular For Beginners series, the serious subject matter is addressed with sass and spirit.
Now in it's 4th printing! Also available at local bookstores, or online at Red Wheel/Weiser
Publisher: (original) Writers and Readers, 1993 (current) For Beginners LLC, 2007
ISBN: 13 978-1-934389-20-1 Trade
www.redwheelweiser.com
"A spirited inquiry. Sharp probes perceptions and stereotypes in an effective chronicle of the history and culture of Black women, bringing a voice of humor and passion."
–Booklist
"There are little-known facts in this informative book which give the reader a whole new way of looking at the history of Black women. It's done in a comic format with clips of writing alongside sketches and black and white photographs. A lot of research (and some personal opinion) has gone into making it radical, amusing and pro-Black. Worth reading if you are interested in looking at life from different angles."
–The Voice, London
C H A P T E R S
Where Did She Come From? (And Then Where Did She Go?)
Names By Which She Is Known
The Beauty Bank
Madonnas or Madams?
Witches, Wives & Warriors
Movers and Shakers
Takin' Care of Bizness
Diva's Don't Die
Bibliography
Illustrator/designer Beverly Hawkins Hall also illustrated the children's books Andie's Amazing Discovery by Joni Forge (Turtleback Books) and Maya's Locs by Norman Burton (Milligan Books). She has designed for film studios, department stores, museums, major newspapers, fashion designers and educational institutions. Ms. Hall's fine art craft is in the mediums of watercolor, pen and ink and mixed media, and she has her own line of greeting cards, Rejoice Designs.