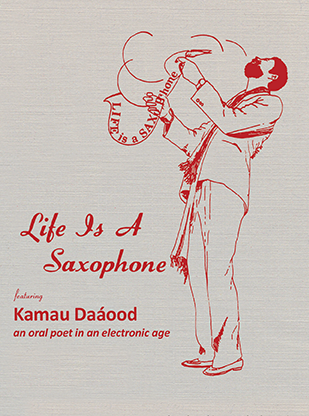 DVD: $15.00


Poet Kamau Daáood, "the word musician," looks at survival as an oral poet in an electronic age, with interpretations of his work by musicians Billy Higgins, Nirankar Singh Khalsa, Dadisi Komolafe, Roberto Miranda, artist Gale Fulton Ross, martial artist Dadisi Sanyika and dancer Lula Washington.
Written and produced and co-directed by S. Pearl Sharp, co-director and cinematographer, Orlando Bagwell. Released in 1985 this 28th Anniversary Edition includes a bonus segment that celebrates the artists' and crew's creative work over the next 28 years.
Film, 58 min., Bonus, 14 min. 1985 & 2013 16mm film to DVD Available DVD & Digital download.
---
---
Reviews
Poet Kamau Daáood shines in this rare and reverent close-up of Kamau the man—humble, generous, musical, with a deep and abiding love for his people and his city. A classic."
–Erin Aubry Kaplan, author, Black Talk, Blue Thoughts, and walking the Color Line
Brother oracle living vibration seeking and sharing sacred syllables. Kamau Daáood demonstrates: life is a saxophone and our breathing must be the music.
–Kalamu ya Salaam, author, educator and moderator of Neo*Griot
An intimate, riveting portrait of soul-stirring poet Kamau Daáood. . . as he works to keep the spirit of the Black Arts Movement alive at the dawn of the hip hop era. Daáood's commitment to the transformative power of music and word to transcend the traps of consumerism and empty entertainment in the "electronic age" is even more urgent in our current "digital age."
–Jacqueline Stewart, film historian, Northwestern University
A timeless portal of art/magic that should serve as a rites of passage for aspiring poets, musicians and artists.

–Poet Food4Thot, author, The Darker Brother
---
Kamau Daáood Bio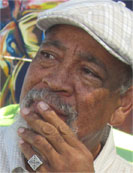 "I stand on the o.g. corner
tell old school stories with a bebop tongue
to the hip-hop future
i see new rainbows in their eyes
as we stand in puddles of melted chains."
Poet, resident griot and cultural worker in Los Angeles' literary community for over forty years. His work includes the critically acclaimed poetry with jazz CD Leimert Park (M.A.M.A. Records), the collection The Language of Saxophones (City Lights ), and a French-English collection, Notes D'un Griot de Los Angeles (Griot Notes from L.A.), (Le Castor Astral). He's the focus of S. Pearl Sharp's documentary Life Is A Saxophone, and is featured in Jeannette Lindsay's documentary Leimert Park: The Story of a Village in South Central L.A. and the PBS documentary Race is the Place.
Kamau's career began in the late 1960s and early 1970s as a young member of the Watts Writers Workshop, and tutelage with Horace Tapscott's Pan African Peoples Arkestra, where he carved a niche as "the word musician." In 1989 he and master drummer Billy Higgins co-founded The World Stage Performance Gallery in Los Angeles, which still offers arts programming daily.
---
(photo this page: Matt Gibson)